The city of Cannes has excellent connections via TGV, Corail train and express train which link it to all French regions and major European cities.
Cannes is easily accessible from: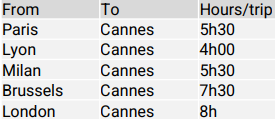 We also encourage each delegate to use the train to reduce the carbon footprint information: www.oui.sncf.
NEW THIS YEAR: CROISETTE EXPRESS
IPEM takes ESG issues very seriously and is commited to reduce its carbon footprint. We therefore recommend our delegates to travel by train.
For the first time, IPEM is chartering a dedicated train for its delegates to travel straight from Paris to Cannes.
Departure on September 20th
Paris Bercy – 8:00am >> Cannes – 13:34pm
First class price: 110€ TTC
Second class price: 80€ TTC
Book your seats now: https://www.billetweb.fr/ipem-2022   (limited seats)
Complimentary LPs tickets available*, please contact Morgane Seradieu