IPEM CROISETTE EXPRESS is back!
Embrace change for a sustainable future by joining us on the Croisette Express, a game-changing initiative by IPEM.
As climate change challenges us all, we believe in taking action. That's why we've partnered with INDEFI to launch our IPEM Going Green strategy. We're committed to reducing our carbon footprint and fostering an eco-conscious private capital industry.
The Croisette Express is your chance to be part of this impactful movement. Here's why you should book your seat now: we've chartered a dedicated train from Paris to Cannes, making your journey not only efficient but also environmentally friendly. It's more than a trip; it's a networking opportunity to connect with industry leaders and forge meaningful connections.
Let's come together to make a difference. Travel, network, and reduce your carbon footprint with the Croisette Express. Be part of the change – secure your seat today!
All aboooard! (Limited seats, get yours now!)
1st Class €190
2nd Class €110
For LPs: complimentary tickets (2-ticket limit per company). Please contact investor@ipem-market.com
Trip details, Tuesday January 23rd 2024:
DEPARTURE >> 12:04 PM from Paris Gare de Lyon (Place Louis-Armand, 75012 Paris).
ARRIVAL >> 5:44 PM in Cannes (4 place de la Gare, 06400 Cannes).
On board:
🟠 Wifi
🟠 Light lunch served on seat tables
🟠 Train bar coach open: beverages & snacks (cash bar)
🟠 Networking areas
6 min walking distance from Cannes train station to IPEM Cannes 2024 (Palais des Festivals) 👇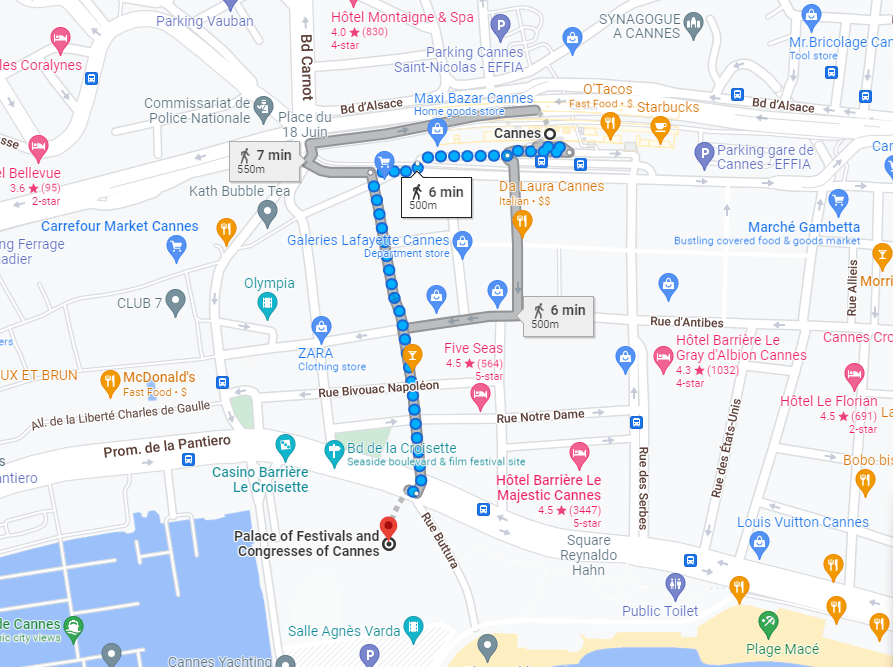 WORKSHOPS
Our partner INDEFI* will help you boost your sustainability game, on the way to IPEM, with peer-to-peer workshops (30 minutes each, in the networking area of the train).
🟢 Workshop 1 (for GPs only): Sustainability Pitch Party for GPs actively fundraising.
Take advantage of this session to receive and give feedback on your Sustainability pitch, from experts in Sustainable Finance and from your peers.
🟢 Workshop 2 (for LPs only): Unlock hidden value opportunities through Sustainability
Discover an actionable Sustainability toolkit, designed specifically for LPs deal teams to use during IPEM networking.
*Limited seats. Please apply here if interested.
The city of Cannes has excellent connections via TGV, Corail train and express train which link it to all French regions and major European cities.
Cannes is easily accessible from: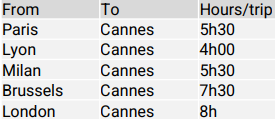 We encourage each delegate to use the train to reduce the carbon footprint information: https://www.sncf.com/fr
DEPARTURE Paris-Cannes 23/1
> Departure: 9:07 AM  / Arrival: 2:25 PM
> Departure: 9:59 AM / Arrival: 3:25 PM
> IPEM Croisette Express! Departure 11:25 AM / Arrival: 5:13 PM
> Departure: 1:54 PM / Arrival: 7:26 PM
> Departure: 3:59 PM / Arrival: 9:26 PM
> Departure: 5:18 PM / Arrival: 10:28 PM
RETURN Cannes-Paris 25/1
> Departure: 16:32 4:32 PM / Arrival: 9:59 PM
> Departure: 5:33 PM / Arrival: 10:46 PM