PRACTICAL INFORMATION: TRANSPORTATION
New this year: CROISETTE EXPRESS!
IPEM takes ESG issues very seriously and is commited to reduce its carbon footprint. We therefore recommend our delegates to travel by train.
For the first time, IPEM is chartering a dedicated train for its delegates to travel straight from Paris to Cannes.
Departure on September 20th
Paris Gare de Lyon – 8:00am >> Cannes – 13:34pm
First class price: 110€ TTC
Second class price: 80€ TTC
Book your seats now: https://www.billetweb.fr/ipem-2022   (limited seats)
Complimentary LPs tickets available*, please contact Morgane Seradieu
By train (recommended)
The city of Cannes has excellent connections via TGV, Corail train and express train which link it to all French regions and major European cities.
Cannes is easily accessible from: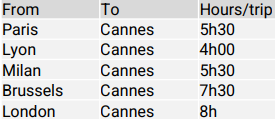 We also encourage each delegate to use the train to reduce the carbon footprint information: www.oui.sncf.
By plane
Located at 27 km from Nice Côte d'Azur airport, Cannes can be reached in less than 30 minutes. Benefit from reduced rates to fly to Nice on AIR FRANCE, KLM and partner airline network.
The event code is the following: 38327AF
Valid for a travel between : 13/09/2022 to 29/09/2022
Your flight can be postponed at no extra charge. Terms & conditions are available on Air France website.
For any inquiries in regard to the cancellation, amendment or refund of your flight ticket, please contact Air France: globalmeetings@airfrance.fr
Transfer from Nice Airport
SHUTTLE
Shuttle travel between the Nice airport and Cannes takes around 1h.
Departure from the airport starts at 8 am and one leaves every ½ hour until 7 pm.
Bus 210 – 22€ one way / 33€ round trip. T: + 33(0)800 06 01 06
Tickets & information available online: Nice Airport Xpress
Free shuttles will be arranged by IPEM at the end of the closing party (5pm on September 22). Reservation on site at the organizer office
CHAUFFEUR SERVICE
Organize your transfers with ELITE TRAVEL, IPEM's official private car agency!
Your dedicated contact:
Eric HANSBERGER: +33 6 66 50 06 06 / info@elite-travel-vtc.com
Book a chauffeur with ELITE TRAVEL
Contact